BACK
Participation
1. Pachube
[[[ LINKS TO OTHER PAGES ARE IN THE TURQUOISE COLOUR OBJECT BOXES ]]]
PACHUBE:

Pachube ("patch-bay") is a web-based service made to manage the world's real-time data. It allows people to share, collaborate and use information generated from all over the world. In addition, it gives users the chance to visualise the information they have collected themselves as well as see visulisations of other user's information. Pachube started from the founder Usman Haque's need to handle real-time data from sensors in interactive environments for his design practice. The prototype officially became Pachube in 2008, and went public in 2010.

Temperature, lights, weather, humidity and many other things are what you can monitor using Pachube. Arexx, Arduino, ASUS WL-500G router with OpenWrt & Current Cost, Home Automation Hub, and Opengear are some devices that the user can use in order to collect and monitor data. These devices can be used to record information using different sensors, lights and many others. After collecting the data by using one of these devices, the user then connects it to a computer. In order to upload this data to Pachube, the user often has to do some coding using programs such as Processing.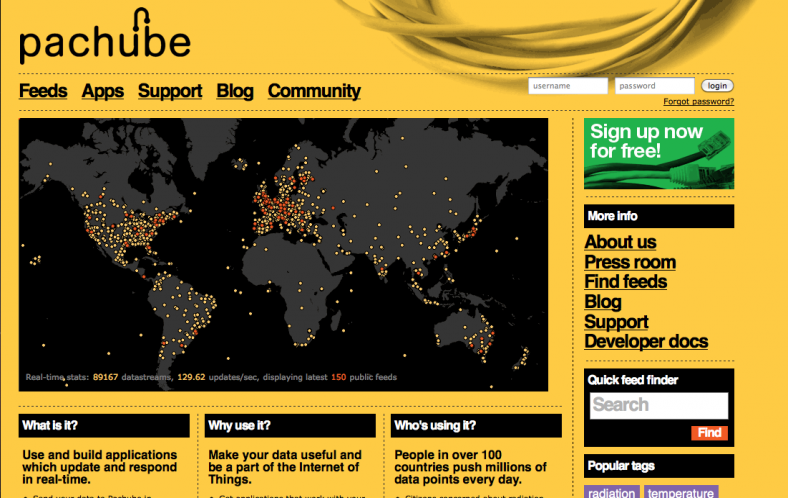 The above diagram shows the process a user has to go through in order to collect data, put it onto Pachube, and the final stage of the data being presented visually. The first stage being hardware, then Pachube and finally applications.

The above image is an example of a real-time graph featured on Pachube. This is a prime example of how the data provided by the user is visualised. Data provided is put into a real-time graph and gives any user the chance to view this data feed as well as others over a select period of time. The user can view the data in a feed ranging from the past hour, all the way to the past year.

By clicking on a specific period of time, the data pattern for that time is shown.

Pachube is a very useful web-based service that can help users to achieve various things. Uses can include:

- Tracking your electricity meter over time, adding graphs on your own site. This gives you the ability to calculate your real-time carbon footprint.
- Connecting basic home-automation devices, controlling them to respond to something like your office environment.
- It can be used to site-specific real-time sensor data to create a Sketch-up model etc.
- If you're into being a stock owner, you might track, and make it public or private, the location of vehicles etc.
- It can be used to assist in areas such as architecture, gaming, product design, web design, virtual, interactive and most other areas.

Pachube helps the user see the benefits of data collection. This includes things like being able to save money (for example by monitoring their electricity usage), be aware of dangerous areas (for example through a live feed of crime) and many more.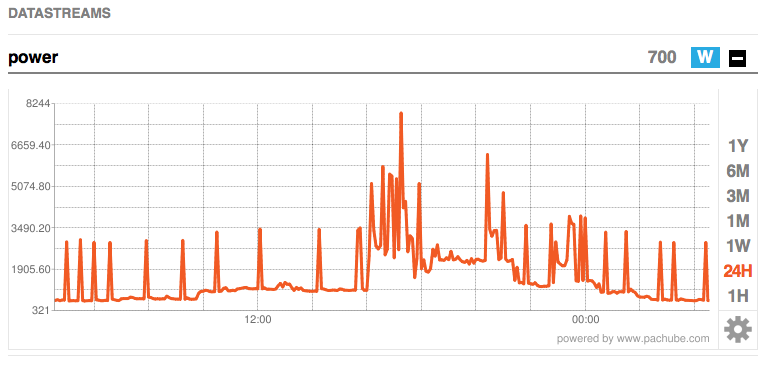 Pachube allows you to download the application Data Logger (as seen left) which uses Pachube to help you to visualise, map and make sense of your stored data. Data Logger lets you store and graph any data you choose along with a timestamp and geolocation. It can be used to store things such as electricity meter readings, to create maps of pollution or temperature sensor readings in your area. It also gives you the opportunity to set up custom data, feeds, with user-defined min and max values, tags, description and units.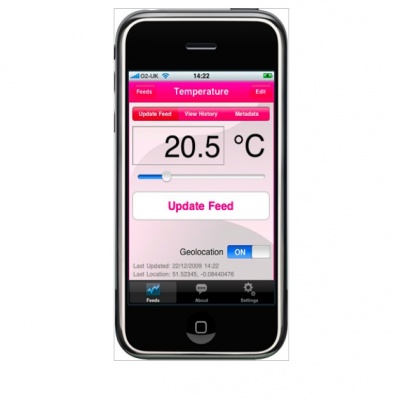 DaFont is an archive of freely downloadable fonts. Fonts are categorized by theme, and can also be sorted by name, date, and popularity. The site also allows users to enter custom text when previewing fonts.

DaFont lets you download fonts made by others as well as to upload any fonts you've created yourself. The fonts can be downloaded for either Mac or PC. All of the fonts are free for personal use and vary in terms of other use.

In terms of licensing/ charge of font it varies from author to author. The site states 'The fonts presented on this website are their authors' property, and are either freeware, shareware, demo versions or public domain. The licence mentioned above the download button is just an indication. Please look at the readme-files in the zips or check the indicated author's website for details, and contact him/her if in doubt. If no author/licence is indicated that's because we don't have information, that doesn't mean it's free."

The site is great in terms of giving users the chance to use a variety of different fonts as well as contribute their own. The site offers the user the chance to donate to a fonts author and usually provides the authors contact details in case a user wants to use their type for something like commercial use.

2. Dafont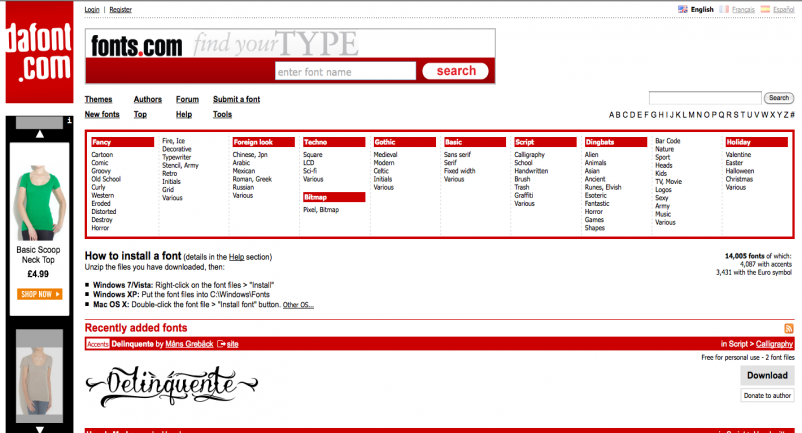 Hotglue is an open source web making software where users can create their own website in a simple manner through the hotglue server. The user is not restricted to a set amount of pages, its unlimited.

Linking pages and web design has been made simple with the Hotglue design interface.

3. Hotglue
The whole process of using Hotglue after the initial registration has been compared to that of 'collage.' This is due to the simplistic workings of the system, allowing you to move text boxes, images, and videos around your personal Hotglue site just by dragging your mouse. Hotglue lets you add text, images and videos to your page. The only restriction is the format the video and images must be in. The images must be JPEG's as this is the compatible format for Hotglue. In terms of videos, the user has to first upload their own video either to vimeo or YouTube before it can be uploaded to Hotglue. Furthermore, the user can add other peoples videos as long as they are in one of the two formats.

Hotglue provides the user with a range of tools when creating their site. These can be seen in the images below:



With one click of your mouse:
Upload a file
Embed a YouTube or vimeo video
Add a new text obeject
Embed another webpage
With double click of your mouse:

Change page title
Change background colour
Upload background image
Compare revisions of this page

Change page's URL
Create a new page
Adjust background image selection
add/edit custom mode

Make this start page
Delete page
List all page
Show/hide grid or change grid size by dragging (50x50)

Tools for bringing in an image:
Toggle image tiling
Reset image size
Adjust image selection
Download original file
Tools for bringing in video:

Toggle automatic playback of video
Toggle looping of video
Tools for editing text:

Change background colour
Make background transparent
Drag to change font size
Change font colour
Change typeface
Change font style
Change line height
Change letter spacing
Change word spacing
Change text alignment
Change padding

Tools for text, image & video:
Clone object
Change Transparency
Bring object to foreground/background
Flip object
Make the object a link
Get the name of this object
Make this object appear on all pages
Lock object
Delete object
The look of my Hotglue page is centered around the importance of the content over the way its made. This was inspired by watching the Virtual Revolution documentary which referenced Marshall McLuhan's ideas and how they're relevant to the present day. YouTube being a clear example of this where the use of media is not as important as the content.

The look of my Hotglue was also influenced by the work of Herbert Bayer. In terms of the consistent use of grid to create a balanced structure throughout. Furthermore, the use of clear solid colours and empty space to enhance clarity.


My Hotglue homepage: