BACK
Online Collaboration
WEB 1.0 & WEB 2.0:

The web as it is Web 1.0 is seen as a static thing, such as a magazine or a billboard. You can see lots of billboards, buy lots of magazines, enjoy or dislike them but they stay the same until they are changed by the publisher. Web 1.0 is generated and edited by the publisher and not the user.

Web 2.0 is more interactive as you don't just use the internet with Web 2.0 you actually interact with it. Users don't only get to interact with the site but also with other people who access the site.
Web 2.0 applications can be generated and shaped by the user. Examples include Wikipedia for encyclopedia articles, Facebook, YouTube, Twitter, Flickr etc.

Now with Web 2.0 everyone can and is creating their own webpages. However, in Web 1.0 websites are created by experts only.

Tim O'Reilly is the founder and CEO of O'Reilly Media, Inc., thought by many to be the best computer book publisher in the world. He is active within the technology communities by driving both the company's product development and informs its marketing.

Tim has served on the board of trustees for both the Internet Security and the Electronic Frontier Foundation , two organizations devoted to ensuring that the Internet keeps its promise. He was on the board of Macromedia until the 2005 merger with Adobe. He is currently on the boards of CollabNet, Good Data, Code for America, Safari Books Online, and O'Reilly Media, Inc.
In 1992, he published The Whole Internet User's Guide & Catalog. the first popular book about the Internet. He has gone on to help further the internet by joining various projects etc.

Web 2.0 has enabled the creation of numerous online collaboration tools which have been mentioned in the definition of Web 2.0 in the second paragraph of this page (Facebook etc). This is all dependent on the input of the user. The best example of this would be any social network site as they are built upon the participation and contribution of the user. Below are a few examples of online collaboration tools:
1. Facebook
PROS:

- Its free
- Communicate with people around the world easily
- Find all your friends who have Facebook accounts
- The groups that you can join, help you find people that have things in common with you
- The interests displayed on the info section helps you find people with common interests
- Blog merge- Merge existing blog right into Facebook blog i.e from twitter to Facebook
- Video & photos help people keep up to date with you
- Chat- communicate with instant chat
- Invite people to events, create events, advertise your business for free


CONS:

- Policy of 13 years of age, too young, not mentally mature enough so can get taken advantage of
- Personal information- add an application, the company, who made the app are in charge of the data and can do whatever they want with it
- People adding you pretending to be someone they're not
- Facebook stalkers
- Can put inappropriate videos/ links up
- Viruses and hacking into your account and spreading it to others
- People become anti-social
- Some people who have Facebook get addicted
- Virtual bullying
- Is easy to lie about your date of birth
- No parental control
- Even if you untag yourself from a picture, it will still be there
- Privacy is not guaranteed especially when using other applications on Facebook your information can be passed onto other companies with you realising as this is not protected by Facebook when referring to applications


POSSIBLE IMPROVEMENTS FOR FACEBOOK:


- Ignore button when you don't want to add people
- Fix the bugs on the Facebook application
- Fix the bugs in general
- Copyright protection- images of drawn ideas could get taken by others
- Translating of foreign text so that everyone knows what is being said
[[[ LINKS TO OTHER PAGES ARE IN THE TURQUOISE COLOUR OBJECT BOXES ]]]
Facebook was started in 2004 by Mark Zuckerberg, who created it for his university being Harvard. It then spread to other universities and eventually grew to what it is today. The Facebook layout is very simplistic and user friendly. The main categories are at the top in a white colour against a blue background making it stand out.

Facebook gives each user the opportunity to create their own profile page. This page shows information about the individual user. This can include things such as current/previous education, relationship status, place of employment, favourite movies etc. The only compulsory information that needs to be provided is a user's date of birth, but this is only when signing up to the site. This is due to the age restriction implied with the use of the site; the user has to be a minimum age of 13.

When it comes to creating your own profile page, each user can decide what information they want to share. Furthermore, with privacy settings user's can choose what others can see. For example, there our settings to block people who aren't your friends on Facebook from seeing your personal info/pictures. There are even more defined settings which allow the user to block an individual from seeing their statuses, pictures etc. User's can not only upload photos, but they can upload videos too. This is all featured on the profile page and the wall which is the homepage of the site. The homepage features live feeds from fellow Facebook friends. The user can tag fellow friends in photos, post comments/ share any other content like videos by posting them onto their friends profile (referred to as wall). Furthermore, Facebook has been made even more accessible with the creation of the Facebook app for phones. So the user can social network on the go and without computer access.

Facebook also gives the user the chance to create their own Facebook email address. This is good as Facebook messages are compatible with numerous email organisations, such as hotmail and Gmail.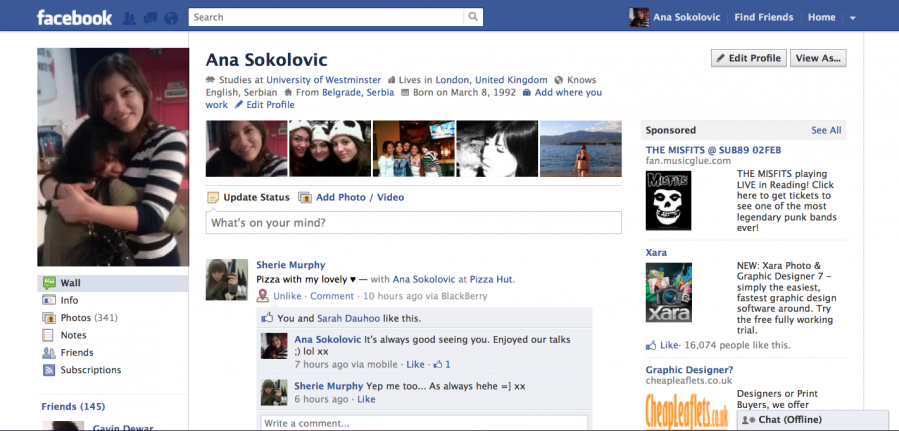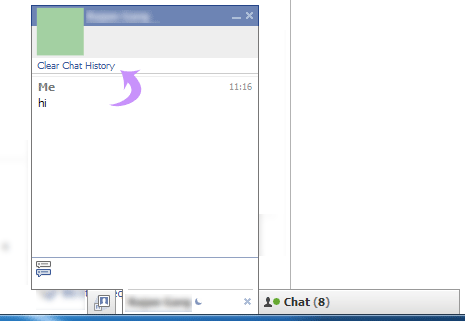 Facebook chat, provides the user with the ability to engage in instant chat with their friends if they're online. If they aren't online, any messages sent will still be received. Therefore, they will be seen by the user once they sign into the site again. Recent updates to the Facebook chat, means that the user can now engage in video chat simply by clicking the camera logo located in the blue bar of the chat box.
2. Skype
Skype has a basic layout that is easily understandable. You sign into your account, and select a contact which is online that you want to communicate with. You can choose whether you call or text them.

Skype Pros:

- Free calls globally, more personal
- Skype, connect to Facebook friends
- Skype, you can identify the person who you are talking to as you can see who they are on webcam
- Choose who you can accept
- Text message chat when you want

Skype Cons:

- Take advantage of the naive
- Circuit bullying
- Connecting to Facebook friends could have some of the same disadvantages as Facebook itself
Skype offers the user the chance to normal/video call for free with their friends as long as their skype users too. Skype users can also use skype to call phones and mobiles (with a purchase of skype credit), group video calling, sending files, instant messaging (with the option of adding emoticons), voicemail and many more. Skype is very useful in giving people the opportunity to stay in touch even if they live on the opposite ends of the Earth.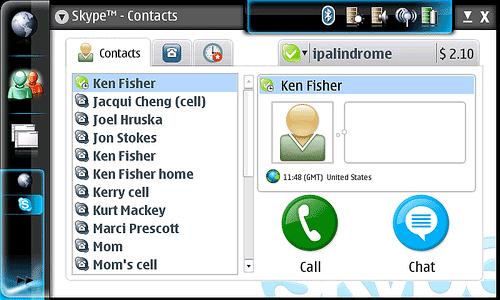 3. Suicide Machine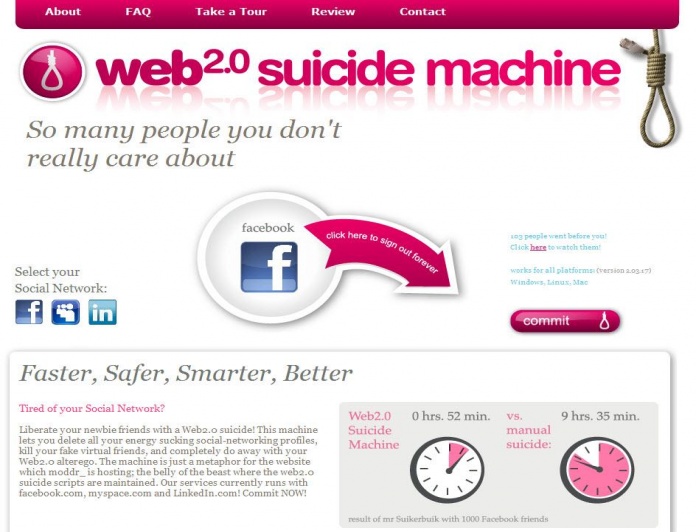 The main parts of the site have been highlighted using a vibrant pink colour and with the addition of text and iconic imagery the site is very self explanatory.

Suicide machine is an anti-social networking site which defends your details by getting rid of them. With this site you can completely delete any one of your social networking profiles. After following the websites instructions, it will completely delete the profile after 30 days.

The website removes all of your information from your chosen social networking site and also saves your last photograph and message on www.suicidemachine.org. However, once you input the required information on sucidemachine, you can't stop the deletion. Another disadvantage would be that there is still a trace of you left i.e. the digital suicide picture icon on the site and the last saying left.
4. Wikipedia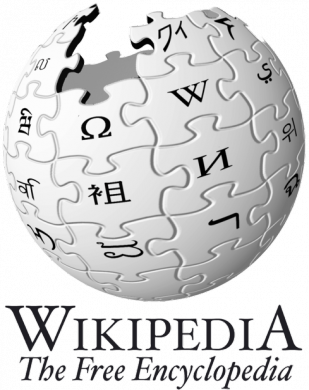 Wikipedia is the 'free encyclopedia that anyone can edit.' Anyone who signs up to the Wikipedia site, can edit information from any article; as well as being able to upload their own article. Wikipedia is dependent on multiple user contribution so is therefore a great example of online collaboration. Any article can be edited endlessly by any Wikipedia user. The purpose of the site is for users all over the world to contribute information in order to gain more details on each specific topic. This is a great way of expanding the information available for each topic. However, with anyone being able to edit, there is a risk of people abusing it to post incorrect/ inappropriate information. Furthermore, any incorrect facts posted by a user might not be identified as wrong and people using this site would end up learning/using incorrect information.
5. Free/Libre/Open Source Software: Worldwide impact study
Free/Libre/Open Source Software (FLOSS) is one of the best examples of open, collaborative, internationally, distributed production and development that exists today. This has resulted in a lot of interest from all over the world from government to developer communities etc. It is also relevant in developing countries.

Libre means that you're allowed to modify the software to suit your needs. The software is the information that is intangible such as word processor.

Advantages of FLOSS:

- Free and accessible
- FP5 FLOSS project and FP6 FLOSSPOLS project have helped fill in the gaps in our knowledge about why and how FLOSS is developed and used, focused in Europe mostly
- Always improving
- Contributes to the community

FLOSS+Art critically reflects on the growing relationship between Free Software ideology, open content and digital art. It provides a view onto the social, political and economic myths and realities linked to this phenomenon.
EXAMPLES OF FLOSS PROJECTS:


Make Art Festival

Make art is an international festival dedicated to the integration of Free/Libre and Open Source Software (FLOSS), open practices and free culture in digital arts.

Make art offers performances, exhibitions, presentations and workshops, focused on the looking at the line between art and software programming. The event is for free software artists, open hardware hackers and people looking at the command line.
GOSUB10
GOSUB10 is dedicated to new music and audio/visuals, the GOSUB10 label will feature an eclectic group of musicians drawn together by their shared use of Free/Libre/Open Source Software (FLOSS). Freely distributed by stream, download and special DVD releases, and made available through an open license, GOSUB10 is run by the GOTO10 collective. GOSUB10 netlabel is a natural extension of GOTO10′s activities supporting and promoting digital art alongside FLOSS tools through workshops, festivals, exhibitions, writing, and more.