BACK
Collaborative Filmaking
Deptford TV is an audio & visual documentation of the Deptford area in collaboration with SPC.org media lab, Bitnik.org, the OWN, Southspace and Goldsmiths college. Deptford.TV is an online collecting media assets in collaboration with the others already mentioned.

'Since September 2005 Deptford.TV functions as an open, collaborative platform that allows artists, film-makers, researchers and participants of the local workshops in and around Deptford, and also beyond Deptford, to store, share, re-edit and redistribute their footage and projects. This raw material as well as edited media content is available on the Deptford. TV database under an open content license such as the Free Art License, the Creative Commons SA-BY License, and the GNU General Public License.'


'The Deptford.TV project shows a form of shared media practice in two ways: audiences become producers by submitting their own footage, and the database enables the contributors to interact with each other.'

It operates through the use of free and open source software, which ensures the users continued control over the production and distribution. FLOSSTV (Free, Libra, Open Source Software TV) covers a broad range of practices, from television via documentary up to media arts productions.
Collaborative Filmmaking is very similar to social networking, as many people from all over the world come together and share different ideas. With collaborative filmaking people work together to achieve an outcome. In many cases, a production company will use the internet community to create films that vary in content from suspense to action.
[[[ LINKS TO OTHER PAGES ARE IN THE TURQUOISE COLOUR OBJECT BOXES ]]]
Star Wreck is a niche film with Hollywood quality special effects, subtitles in 30 languages and all made in collaboration with an active passionate community, was released in August of 2005, going against every industry standard and for only 15 000 €. It was created by a group of filmmakers from Finland. The crew of 5 and 3000 of their friends across the globe proved that filmaking could be done away from the traditional methods. Using the internet they were all able to collaborate on this project. Their success opens the door for any niche film to get made and then seen by millions online.

Based on their experience of creating the Star Wreck phenomenon, the filmmakers (Star Wreck Studios) created the Wreckamovie platform. It's purpose to create a space for Internet communities for creating short films, documentaries, music videos, Internet flicks, full length features, mobile films and more.

www.wreckamovie.com is a social community, simple to use and a marketplace that builds communities around film productions. It helps get films done faster and at a considerably lower cost through crowd-sourced work on production tasks and online resourcing of expertise and corporate funding. The communities developed in production will also create a viral social marketing force that will get films seen through the hundreds of existing online and standard channels.

Wreckamovie.com is a collaborative film production platform, where anybody can come and set up their own film production, and find a community to collaborate on, or find an interesting film productions and become a collaborator. Its aim is to make filmmaking easier, more effective and possible for everyone. Their aim is to create a sense of community within filmaking, making it easier for people to work together on projects as well as to find others to help them achieve their own vision.

The good thing about Wreckamovie.com is that is free for everyone. There is no requirement of the user to be a professional filmmaker. The creators believe 'in enthusiasm over professionalism, but, we do know that what is best is a combination of the two.'

Getting started with Wreckamovie is simple. You just have to go to the Films page, scan for interesting productions, click on one, and then click on "Join the Production." You can even your own film production on the site by going to the Films page, and clicking on "Add Your Own Production". Following the instructions provided, this is easily achieved. The site is very straightforward to use.

The creators use the word wreck- to refer to the occupation of the user or the users displayed. On their homepage you can see the latest tasks which refers to the latest film productions taking place, blog updates etc.

The above image shows the task page. It lets the user filter the wreckupations (meaning occupations) available so they could find what they do and if there are any tasks required of someone in this field. The actual reason they use the word wreckupation is that they 'don't want just to call it an "occupation..." we don't expect you to get paid for it; it's something you do just because you love it'. The wreckupations vary from 3D Artist all the way to lawyer. Other tabs include People which shows the registered users. One can view there occupation, name & karma ( is the way of measuring the users devotion as a 'Wrecker.') This is based on the amount of thumbs up (likes) a 'Wrecker' gets by other users.
1. Deptford TV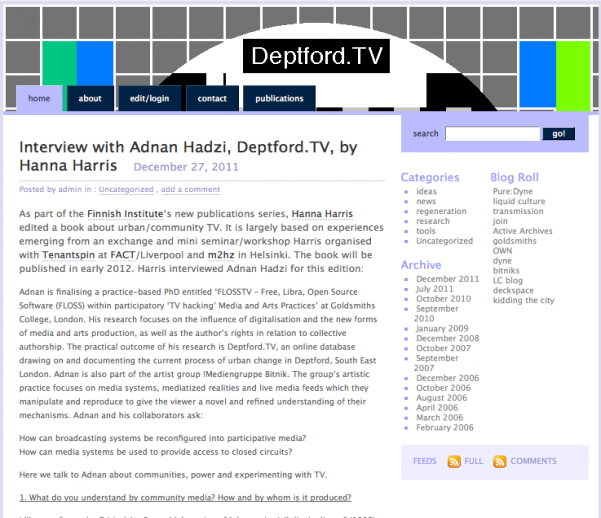 2. Wreckamovie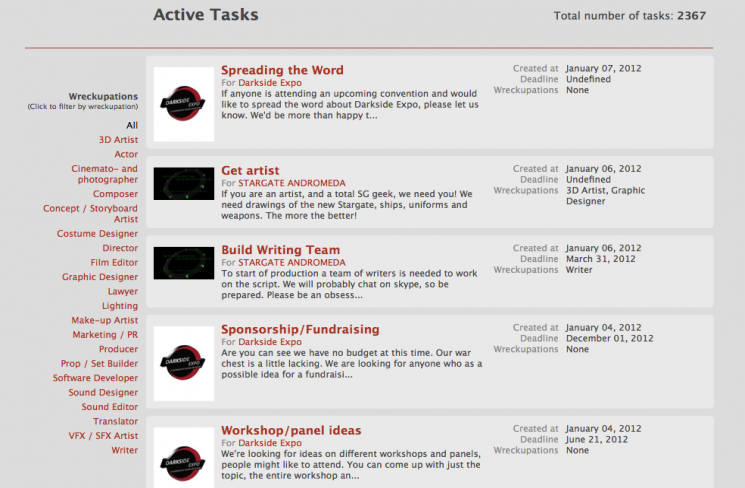 3. Man With The Movie Camera
Man With a Movie Camera: The Global Remake is a participatory video shot by people around the world who are invited to record footage interpreting the original script of Vertov's Man With A Movie Camera and upload them to http://dziga.perrybard.net. Software developed specifically for this project archives, sequences and streams the submissions as a film. Anyone can upload footage. When the work streams, a users contribution becomes part of a worldwide montage.

http://dziga.perrybard.net/website contains every shot from Vertov's 1929 film along with thumbnails representing the beginning middle and end of each shot.

Everyone's invited to interpret Vertov's original film and upload their own footage to the site to become part of the entire database. A user can contribute anything from one scene to multiple scenes. It's a massive ongoing collaborative filmmaking project featuring submissions from all over the world.

The process for the user to do this is to first Goto the scenes tag, select one, then choose the shot or shots you want to upload to. Or goto shots by tag to see shots broken down by theme or content.

In terms of copyright infringement a user must make sure that the video or images they upload, they own or have the necessary licenses, rights, consents, and permissions to use it.

Above on the left is the original Vertov 1929 film along with an example of a video created by the submission of 24 uploads from 18 countries. The video on the right is interesting to look at as it clearly shows the advancement in film technology in comparison to the technology available when the original was shot.